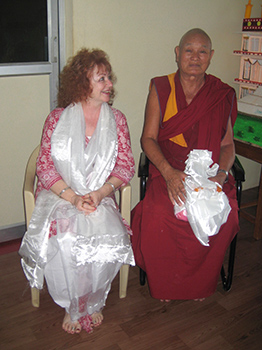 Geshela journeyed from Tibet after the Chinese Invasion in 1950. He trekked over the mountains, an arduous journey and took refuge in India. In time he was assigned to Mundgod, South India, where he was one of the original monks to help begin building and establishing Gaden Jangtse Tsawa Khangtsen. His lineage was Gelug, belonging to H.H. Dalai Lama and to whom he was deeply devoted. Geshela was tall and walked straight back and as though effortlessly gliding on tip-toes. He was filled with compassion and integrity and gave a lifetime of tremendous loving service to the monastery and to everyone he met. I feel tremendous gratitude to have met him and receive his everlasting friendship and guiding wisdom in my life.
I first connected with Geshela Jampa Dhondup in 2003. A young Tibetan widow in Puttaparthi, where I was residing, was returning to the monastery and to Geshela for her husband's Bardo prayers. Bardo generally means "intermediate state." Bardo prayers are often done next to the bedside of a dying person and continue for forty nine days after death. The text of the Bardo Thodal, the "Liberation upon Hearing, is read to the one dying. In Tibetan Buddhism, it is believed that at the moment of death the mind and body become separated, the body becomes a corpse but the mind continues to experience sensations and appearances. Consciousness continues to exist. But it can be trapped in delusion and caught in Bardo Realms or freed and liberated from these Realms and their suffering.
Nygma's husband had been a great help to the monastery and both had been close to Geshela. Along with some others, I helped her a little with some of the practicalities following her husband's death. She was in shock and was finding it very difficult to deal with all the legal paperwork relating to banks and government authorities. At that time, I was experiencing deep personal trauma and when she talked about Geshela I felt drawn to send him a note which she could hand to him requesting prayers.
When Geshela received my letter he tried to telephone me but could not get through. Mobile telephones were still not that effective and landlines were difficult too. He wanted me to know that my personal "Bardo" situation was included in the prayers along with those of the young widow's husband. Although I was unaware consciously of what was happening during this time, I awoke one morning filled with a compulsion to write a book that I had been considering for nine years called Bardo of Becoming.
The novel is about the experiences of one who is conscious after death and of their many experiences through the Bardo Realms, the intermediate States between life and birth. I have no doubt that the prayers and the connection with Geshela triggered my writing at that time. I completed the book within a month. By the time the young widow had returned with a letter for me from Geshela the main body of the work was almost complete.
I kept in contact with Geshela through letter and telephone until I finally visited him at the monastery in 2004. After this first meeting I visited the monastery more frequently and enjoyed many happy times in his company. I also slowly began to help the aims of the monastery in little ways, assisting people who wished to have prayers and divinations said by the monks and to those who wished to know about sponsoring monks and the monastery. Geshela came to know many of my own students and was keenly interested in their welfare, praying for them and helping them with their personal problems and concerns. He would sometimes write to my family and students, painstakingly taking care of them and helping to alleviate their sufferings.
Geshela was always there for me and so many in so many kind and cherishing ways, showing me the nature of true compassion and selflessness. One year, I had to undergo operations on my legs and was recovering in Bangalore before returning to Puttaparthi. Geshela decided to visit me and spend the day with me because he felt that I should have family with me. Accompanied by three monks he travelled from Mundgod to Hubli by road and took the overnight train to Bangalore. This is not an easy or comfortable journey. Then again, he travelled by road to where I was staying in the outskirts of Bangalore. He sat with me during the day, cross legged on the floor, at times praying, sometimes talking and sharing food with me. Later in the evening he undertook the entire journey again to return to the monastery the following morning. Geshela was neither young nor in great health and yet he selflessly made this effort to give me companionship and kindness when he felt that I needed it.
One day Geshela began calling me Ama Chahna La. Chahna is my "pet name." Ama is mother. La is a token of respect. I teasingly said to him that I could not be his mother as I was so much younger than him, but he said that this had nothing to do with worldly age. He felt strongly that I was the mother of the Khangsten (the particular house of the monastery he belonged to) and that he wanted the monks to call me this. From then on, the monks of Tsawa Khangtsen, Geshela's particular house called me by this name. There are usually up to 500 monks in each Khangtsen of a monastery and four Khangtsens belonging to each monastery.
In 2011, following a brief illness, Geshela passed on the 19th May. This was a shock to all of us who knew him. However, something very remarkable happened following his death. It was clear that Geshela's body did not begin to deteriorate as would be expected. This is the hottest time of the year and decomposition of a corpse is normally very fast. An inner, subtle breathing continued after Geshela left his body. It is believed in Tibetan Buddhism that when great practitioners die, they are able to enter the state called Thug-dam where they have control over death. This is a state of deep meditation where although dead, the body remains warm and the cells of the body do not begin the process of dissolution. This is considered to be a sign that a great practitioner has entered a slate of meditation at death and is able to voluntarily remain in that state. It shows that the one who has passed is freed from the Bardo realms and sufferings.
Through his death, Geshela inspires all to practice meditation while they are alive to be able to control the mind in the Bardo. Meditation is not merely sitting for thirty minutes or an hour at a time. Meditation is about having control of the mind and not allowing to the mind to run wild after all kinds of desires and delusions. A true state of meditation is a mind that is free and clear and in total peace. A mind that illuminates and radiates compassion.
Geshela's consciousness remained like this for nearly two weeks before his body was later cremated. I longed to sit by him in his room where his body lay, but I was in the UK taking care of my mother who was also dying and so I could not return to India at that time. Three mothers were taken from me during this time. Within a few months of each other, Sri Sathya Sai Baba, my Guru, Geshela and my mother all left their bodies.
Geshela was my friend in the most expansive, deepest all-encompassing meaning of the word. I was honored to witness his many acts of kindness and compassion in so many wonderful and illuminating ways. I can find no word that truly embraces what he meant to me, what he still means to me and of how our friendship affected my life so deeply. Through his deepest spiritual intentions and wishes, his grace and his inspiration I have continued to be very much involved in the monastery. Whatever I am able to do for the monks comes from the grace of his legacy to me. My deepest gratitude and respect for this wonderful being who I feel privileged to have met and to call my friend.
Mynavati