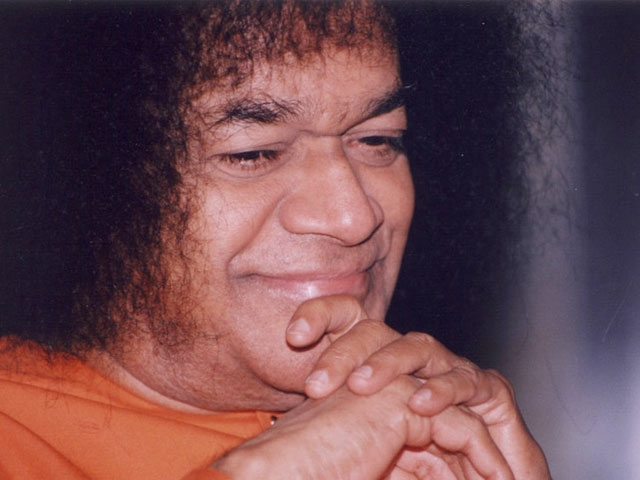 "I have come to light the lamp of Love in your hearts, to see that it shines day by day with added luster.   I have not come on behalf of any exclusive religion.  I have not come on a mission of publicity for a sect or creed or cause, nor have I come to collect followers for a doctrine.
I have no plan to attract disciples or devotees into my fold or any fold.   I have come to tell you of this unitary faith, this spiritual principle, this path of Love, this virtue of Love, this duty of Love, this obligation of Love."  
Bhagawan Sri Sathya Sai Baba
Mynavati writes:
The light of Divine Love that Sai Baba refers to has lit my heart and inspires me to grow and serve in whatever ways are possible.
I met Swami for the first time in 1996.  I arrived as a tourist, but one small glimpse of him from a distance was enough to begin my journey of the heart with Swami.
As I left, I did not imagine that I would ever return. But, a couple of months later, I had a dream where I saw Swami standing under a bright lamp on the corner of an otherwise very dark street that was like a crossroads.  I could not resist Him and I went to up to Him.  Swami took my right hand between his two hands and looked lovingly into my eyes.  "Come," He said, "There is a place for you."  I understood that He meant me to be nearer to Him.   I felt a Love that was indescribable pouring from Him to me.  It was a Divine Love that I had never felt so strongly before and which has remained with me always.
Since then, I had the great privilege of receiving interviews from Him, of living for a number of years in Puttaparthi at His sweet Lotus Feet, and of serving him by helping to organize International adult and children's choirs.
Swami has given me more than my devotion could ever repay. Most of all he has shown me the depths of His compassion and Love for all.   Every little good thing that I am able to now do, every small action that I can do to help anyone, anywhere, is through the inspiration of Sri Sathya Sai Baba's eternal Loving presence for all and my deep gratitude to Him as my Guru.  Swami's presence and Love inspired me to write the books I have written.  His Love inspires me to Love, more and more and more.
About Sathya Sai Baba
Sathya Sai Baba is a highly revered spiritual teacher who was born and lived in Puttaparthi, Andhra Pradesh, South India.  His life and message inspires millions of people throughout the world to turn God-ward and to lead more meaningful and dharmic lives.
Sathya Sai Baba publicly declared his mission in 1940, at the age of 14. Since then, he has daily taught by example, the highest ideals of truth, right conduct, peace, love, and nonviolence.  He says, "My life is my message."
Saying Goodbye
My beloved Guru left his body on 24th March, 2011 at 7.40am. (Easter Day in the UK)   My connection with him remains, strong and true.
Sri Sathya Sai Baba connects with all on a heart-to-heart basis. He has emphatically said that there are no intermediaries between Himself and those who seek the Truth and yearn for God.  If you wish to connect with Swami, He is in your heart.   He frequently told us that He was not the body.  His body has gone, but Sri Sathya Sai Baba and His Divine Love is present now and always.
The web site of the ashram is
www.sathyasai.org/ Here, you will find Swami's teachings and photographs. including His work for humanity from building hospitals and schools to creating water supplies for those in need or to listen to a visiting choir or drama.